---
Click here to download a printable/accessible version of this guide in MS Word format
Text version
Phase 1. Will be done by the module leader:
Setting up the groups in Blackboard
1. Select the Groups function from the Users and Groups menu in the Control Panel
2. Via the Create button select Manual Enrol under the Group Set column
3. Give the group set a name – this can be anything you want.
4. You must ensure that the Group is NOT visible to students: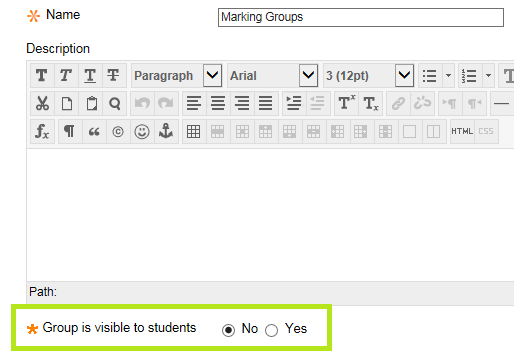 5. Scroll to the bottom of the page and enter the number of groups you want to create – one for each tutor who will be marking. In this example it is set to 3 (three).
6. Click the Submit button
7. Change the name of each of the groups to the name of the tutor for that group
There are 2 (two) options for choosing how to assign students to tutors.
OPTION 1
If you do not need to associate particular students with a particular instructor
1. Click the Randomise Enrolments button
2. Ensure that it is set to enrol students only, and click the Submit button
3. Students assigned to a tutor for marking will be listed in their group panel. Click the Submit button to save the settings.
OPTION 2
If you need to assign particular students to particular tutors for marking
1. Ensure that the Hide Members . . . box is checked
2. Click the Add Users button
3. Choose which students to assign to this tutor from the list, and click the Submit button.
4. The selected students will appear in the tutor group panel.

5. Repeat this process (steps 2 and 3) for each of the tutor groups. Note: students already assigned to a tutor group will not be available to add to the other tutor groups.
6. Once you have assigned all of the students (using either the randomised or individual enrolment method), click the Submit button.
The group creation process is now complete!
---
Phase 2: Marking work via the Group setting in Turnitin

When ready to mark students work in Turnitin:
1. In the Control Panel area select Turnitin Assignment by Groups
2. From the Turnitin Assignments by Group list, select the assignment that you want to mark
3. Choose your group from the dropdown menu and click Go
4. You will then be presented with a list of submissions only from those students that have been assigned to you using the Group function
5. You can access students work for marking directly from this.