Click here to download an accessible version of this guide
Feedback documents can be uploaded and attached to student grades in the Grade Centre.
1. Log into your module and go into the Full Grade Centre view.
2. Locate the coloumn for the assessment (e.g. test) and click on the grey icon which correponds to the student for whom you want to give feedback
2. Click View Grade Details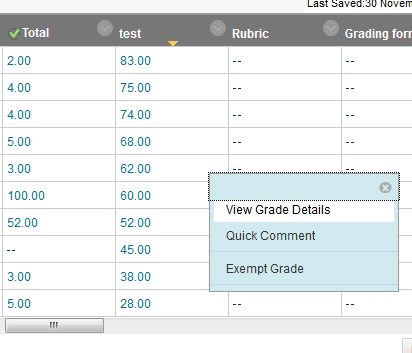 3. Click Edit Grade
4. Click the paper clip icon in the Feedback to Learner area (NOT in the Grading Notes area)
5. Use the Browse My Computer button to locate the file you wish to upload, and click the Submit button to upload it
6. If the file was succesfully uploaded a link to it will appear in the Feedback to Learner area. Click the Save button to complete the upload.
7. A link to the document should now appear under Feedback to Learner
8. When a student uses the My Grades fucntion to access their grades they can view the attached feedback by clicking on the speech bubble icon next to their grade
9. This will present a window from which they can click the link to download and view their feedback