1. In the module where you want to make the recording available to students – click on Tools* followed by Panopto Content.
(*Click here to find out how to add a Tools link to the main menu if there isn't one on your module)

2. Click the Create button and select Upload media.
3. Either drag the video file into the grey box or click the box and browse for the video file.
The video file will be uploaded.
Now to make the recording visible on blackboard:
4. In the module, go into the content area where you wish the video link to appear (e.g. Learning Materials).
5. In the Tools menu select Panopto Video Link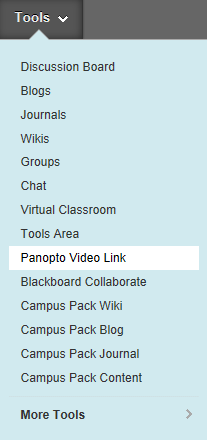 6. Select the 'Folder' (this will be the module title) and 'Lecture' (this will be the video that you uploaded) using the drop-down boxes provided; enter a meaningful title and description in the boxes provided (the students will see these) and click 'Submit'.
7. A confirmation of the item being created will be displayed – click 'ok' to return to the Blackboard content area
8. The content area will now show a new piece of content with the including the title and description as input previously. When a student clicks this link it will play the video.