1. In the Unit or content folder click Create New.
2. Select Assignment.
3. Give the submission a title, set the maximum score (100), set the due date, add any instruction to appear with the submission link.
4. Expand the Availability Dates and Conditions panel – Start date is the date when the submission link becomes visible to students (you can leave this blank if you want the link to be available immediately); end date is the date when the link is hidden from students.
5. Expand the Submission and Completion panel – select individual assignment; File submission; one file.
6. Under Allowable File Extensions select – Compatible with Turnitin; set Submissions to only keep the most recent; leave the notification email blank – unless you want to receive an email every time a student uploads a submission.
7. Expand the Evaluation and Feedback panel – if you are using a Turnitin rubric/marking grid DO NOT use the Add Rubric option. If you are using Turnitin to provide online feedback (e.g. quickmarks, etc) DO NOT check the Annotation tools option. You MUST check the Anonymous Marking option – if you need to mark anonymously. Click Manage Turnitin to access the Turnitin specific settings.
8. In the Turnitin integration panel – enable the similarity report and choose if you want students to be able to see the similarity report. Set it to check the similarity on all submissions.
9. In the Turnitin integration panel – if you want to use the Turnitin tools to provide online feedback (e.g. quickmarks, etc) you must enable online grading. Select automatically sync grades. Click the More options button.
10. Complete the Turnitin settings as normal – adding a Turnitin Rubric if you use one. And click Submit.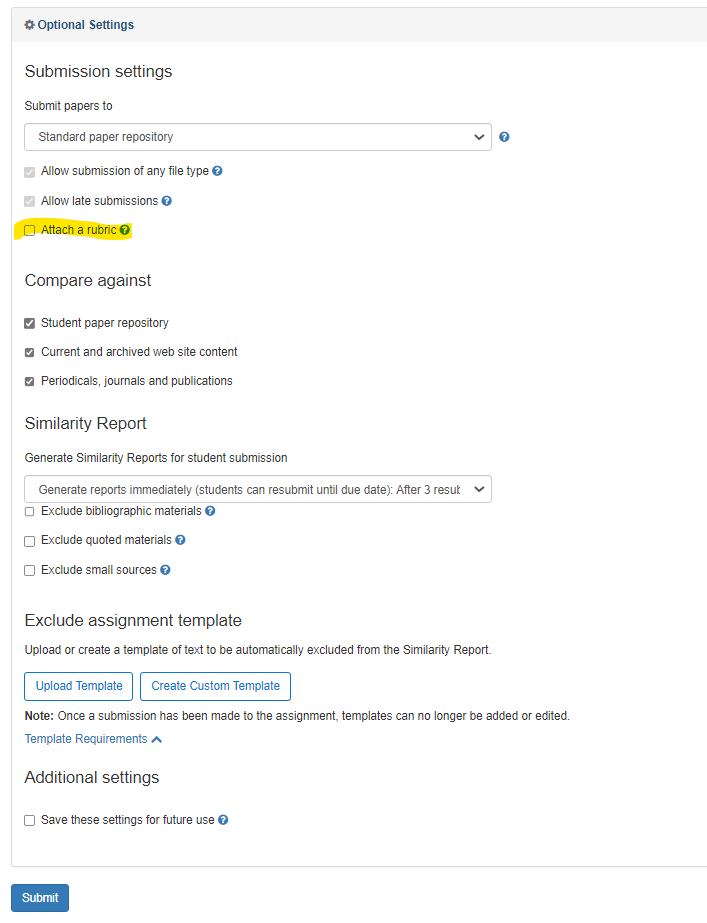 11. Click Save.
12. Make sure the assessment link is set to be visible to students and click Save and Close.
A submission link will be created: