Click here to download an accessible version of this guide
Text-based guide
This guide is based on the use of DMU Replay in a classroom – not for when using a desktop computer.
Part 1 – Preparing the PowerPoint presentation
1.Open your PowerPoint presentation as usual, NOT through the DMU Replay software
2. Make sure that the notes view is visible by clicking the Notes icon at the bottom of the PowerPoint panel
3. Remove the slide viewer on the left side of the screen by clicking the edge of the panel (highlighted) and dragging it to the left
until it disappears
4. Ensure that the notes panel at the bottom of the presentation is large enough to show all of the notes in all of the slides without having to scroll the notes panel – by clicking the top edge of the notes panel (highlighted) and dragging it up
until all of the notes can be seen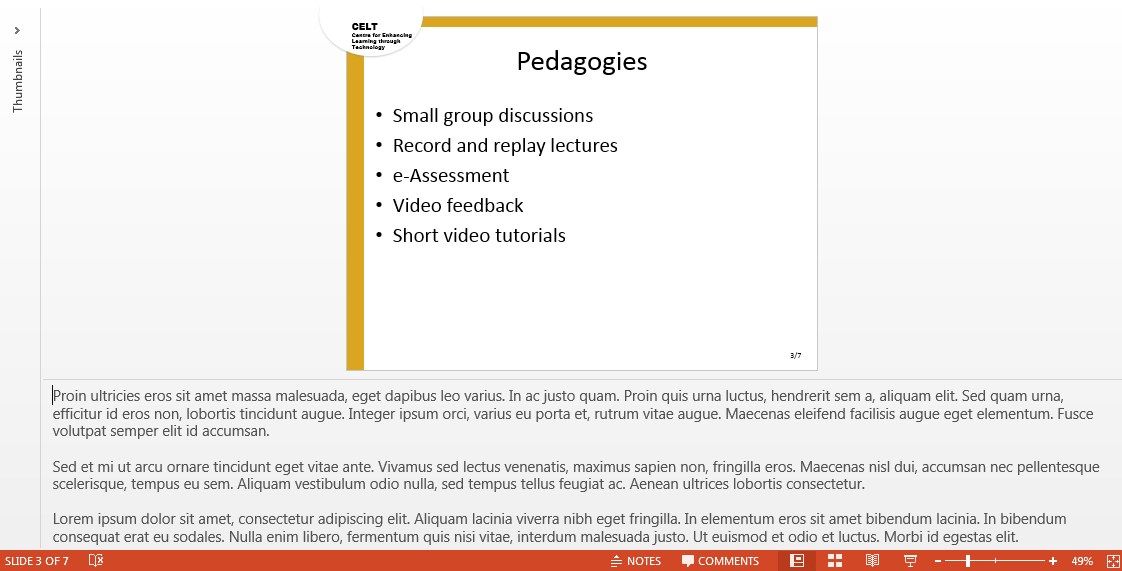 NOTE: the more notes that you include, the smaller your slides will become
5. Click the ribbon display option button, and select Auto-hide Ribbon
Part 2 – Recording
1.In the DMU Replay software, un-check the Capture PowerPoint option; and check the Capture Main Screen option
2. Click the record button, and navigate through your presentation slides as usual.
Remember – you cannot enter presentation mode, or your slide notes will no longer be visible on screen.
3. When you have finished your presentation, navigate to the DMU Replay software using the task bar icon located at the bottom left of the computer desktop screen
and click Stop
4. Your recording will be processed as normal, and you will be able to create a link to it in your Blackboard module, as usual.
Part 3 – Playback
1.When playing the recording the notes view will appear on screen
You will notice that there are no index points in the navigation menu on the left side of the playback viewer.
Index points can be added manually using the DMU Replay editor. For more information about editing DMU Replay recordings visit:
https://celt.our.dmu.ac.uk/support-using-technology/develop-content/multimedia-enhancement-editing-recordings/