Download a printable/accessible version of this page in MS Word format
There are certain process and practices in the use of technologies to support teaching, learning and assessment that you may only use a few times a year, and at broadly dispersed intervals. This can sometimes result in you not remembering the process and having to try and re-locate the 'how to' instructions on the DLaT hub.
Using the bookmark function in your web browser can be a good way to keep track of where these essential 'how to' guides are located, and provide you with instant access to them – without having to search for them every time in the DLaT hub.
To use bookmarks in Microsoft Edge
1. Navigate to the how to guide in the DLaT Hub that you want to bookmark. E.g. setting up a Turnitin submission link: https://celt.our.dmu.ac.uk/setting-up-a-turnitin-submission-link-for-grademark/
2. Click the Star icon in the top right of your screen
3. Click the little arrow next to the Favourites tab
select Favourites Bar and click the Add button
4. A menu bar will appear at the top of the page and there will be a link to the guide that you just added.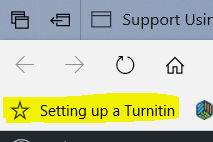 This menu bar with all links that you have added to it will appear at the top of the screen whenever you browse the internet. Simply click on the link to access the content of the link.
5. You may wish to add the following 'how to' links to your Favourites bar, to start with.
Copy last year's Blackboard module shell to a new shell
https://celt.our.dmu.ac.uk/blackboard/blackboard-how-do-i/blackboard-site-management-tasks/copying-and-backup-tasks/course-copy/
Make DMU Replay recordings from last year's modules available to students in this year's modules
https://celt.our.dmu.ac.uk/dmu-replay-wayward-recording/
Add automatic captions to my DMU Replay recording
https://celt.our.dmu.ac.uk/add-the-automatic-captions-to-my-dmu-replay-recording/
Put a DMU Replay recording into a Blackboard module
https://celt.our.dmu.ac.uk/panopto-adding-a-recording-to-blackboard-quickguide/
Set up a Turnitin submission link in Blackboard to be marked anonymously online using the Turnitin Feedback Studio
https://celt.our.dmu.ac.uk/setting-up-a-turnitin-submission-link-for-grademark/
Use Groups to apportion marking across a module team when using Turnitin
https://celt.our.dmu.ac.uk/using-groups-for-marking-in-turnitin/
Add a link through which students can access their grades in Blackboard
https://celt.our.dmu.ac.uk/blackboard/blackboard-how-do-i/blackboard-course-management/blackboard-assessment-tools/evaluation/grade-centre/enabling-the-my-grades-tool-link/