1. Start/login to your computer as normal.
2. Click on the Windows menu and select DMU Replay.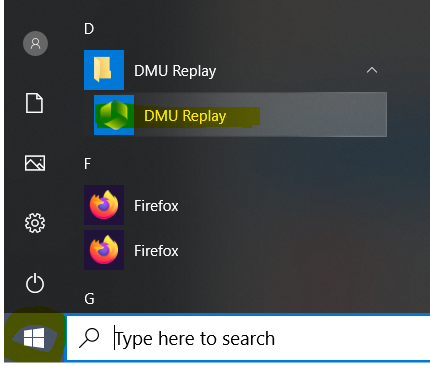 If there is no DMU Replay option, you should contact ITMS and request access to the DMU Replay software.
3. Log in with your DMU credentials
The recording panel will appear
4. Select the Blackboard shell that you want the recording to be associated with by clicking the little arrow to the right of the Folder option at the top of the recorder panel, and choosing the module from the menu that appears.|
5. Use the Audio option in the Primary Sources panel to select the microphone that you want to record with. In this example the Polycom (Lync) telephone is being selected.
6. In the Secondary Sources window, select any other sources that you want to record. Note: there is a specific option for recording PowerPoint.
Other video sources (such as an external web cam – if one is plugged in) can be added using the Add Another Video Source button
7. If you have chosen to record a PowerPoint presentation, you can open, automatically launch, and begin recording the presentation by clicking the Open a Presentation button.
8. Locate and open the PowerPoint.
9. Click Yes.
10. Your presentation will automatically open, and will go into presentation mode. You can now conduct your presentation as normal – moving through the slides as normal.
If you are NOT recording PowerPoint, click the Record button to start recording.
Click the pause button to pause the recording and the resume button to resume a recording
11. When you have finished your presentation – click the ESC key on your keyboard, and click on the Panopto icon in the task bar.
This will take you back to the Panopto recorder window.
12. Click the Stop button to stop the recording
13. You will be notified that the recording has completed successfully and the upload panel will appear.
You can change the Session name, and add a description for this recording.
14. To upload the recording to the DMU Replay Server click the Upload button. You can discard the recording by clicking the Delete and record again button – if you do this you will not be able to retrieve the recording.
Once the recording has been uploaded and is ready for you to access, you will receive an email from 'DMU Replay'.
A link to the recording can then be made in your Blackboard module as usual.
If you wish to explore different ways in which DMU Replay may be able to help with innovation please contact your local ELT Project Officer.