Download a transcript of this video
Download this guide in MS Word format.
---
This guide provides information that will help you to facilitate students uploading to the DMU Replay system whilst maintaining a level of privacy by default.
The Assignment Folder function provides a space that students can access when either using the DMU Replay recorder software or when uploading videos that may have been recorded using other software and devices for assessment.

If your module folder is shared outside of the default permissions it is likely that other colleagues will be able record to your new Assignment folder.

When uploading videos the DMU Replay system can only handle a maximum resolution of 1080p. This is High Definition and will be fine in the majority of cases but if you require a higher resolution please see the FAQ titled Can I or my students upload Ultra High Def' videos?
What you will need
An Internet connected PC – to perform these actions you do not need any specialised software, only an Internet connection and a web browser.
---
1. Once logged on to the computer, open your preferred web browser and navigate to panopto.dmu.ac.uk
2. Click Sign and use your Blackboard credentials to access DMU Replay

In order to log in here you must be an Instructor on a 'DMU Replay provisioned' Blackboard shell. DMU Replay provisioning can be done by Instructors on the Blackboard shell, click here to view the guide
3. Click Browse and select the Folder (Module) for which you want to enable the Assignment Folder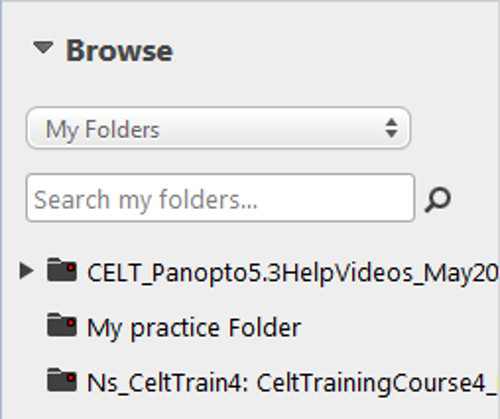 4. Once in the Folder, click the Folder Settings icon
5. Click the Create Assignment Folder link
6. A new Folder will appear underneath the Module Folder in the left hand side
Colleagues and students will now be able to select this Folder when recording, but student recordings in the Assignment Folder remain private between the student and the Instructor(s).

Where there are multiple assessed components to be submitted via DMU Replay; colleagues should create a new folder for each component and enable the Assignment Folder for each of these. This will provide multiple Assignment Folders for a single module.
7. Follow the process for creating a Blackboard Assignment tool link to provide a space for students to submit the link to their recordings.
---
The process for students follows.
Download the student process in a modifiable format (MS Word)

The Firefox web browser may not work with DMU Replay. Use Google Chrome or Microsoft Edge.
1. Navigate to Panopto.dmu.ac.uk
2. Click the Sign In buttons
3. Log in using your usual Blackboard pnumber and password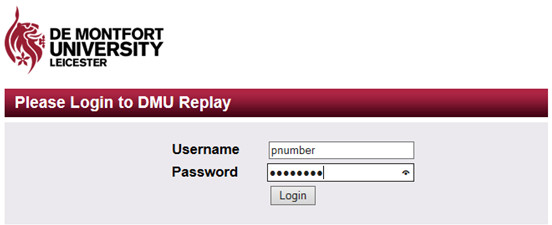 4. Click Browse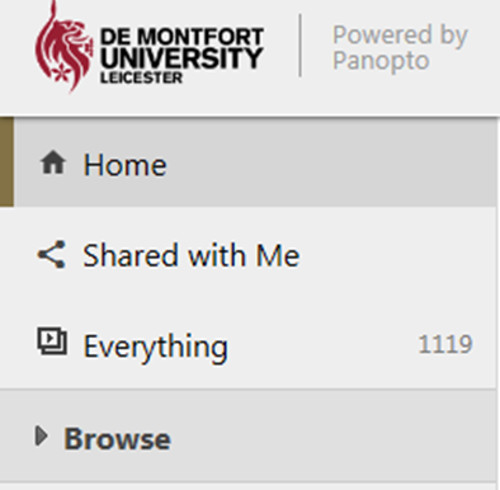 5. Locate and click the Assignments Folder for the module you are submitting for
6. Ensure you are looking at the Assignments Folder (this is very important – if you upload your submission into the main module folder everyone on the module will be able to view it; in some cases this could be a breach of data protection).
7. Click Create followed by Upload media
8. Click the grey box and browse for your video

you may also drag and drop here
9. The system will upload your video – wait for the green bar to disappear
10. Close the smaller inner window
11. You will receive an email from DMU Replay – this is your digital receipt

if you do not receive this email within 24 hours please contact ITMS to report a fault
12. Copy the View link onto your computer's clipboard
13. Log in to Blackboard and go to the appropriate module shell
14. Locate and click the appropriate Video Presentation submission link
15. Paste the View link from the email into the Comments box and click Submit
16. Ensure you see the Success message in Blackboard to confirm your submission

 if you do not see the Success message contact ITMS to report a fault
17. The student has now uploaded and submitted.
If you wish to explore different ways in which DMU Replay may be able to help with innovation please contact your local ELT Project Officer.
---