Instructions:
1. Navigate to https://panopto.dmu.ac.uk
2. Click the Sign In buttons
3. Log in using your usual Blackboard pnumber and password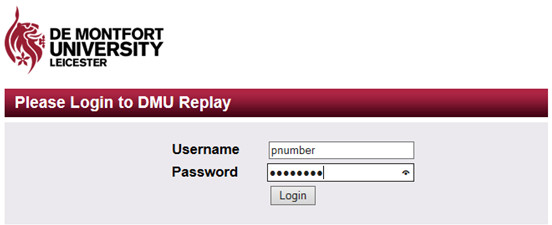 4. Click Create > Upload Media
5. Select ENTE3506 from the list of modules

6. Click the grey box and browse for your video
Note: you may also drag and drop here
7. The system will upload your video – wait for the green bar to disappear
8. Close the smaller inner window
9. You will receive an email from DMU Replay – this is your digital receipt
Note: if you do not receive this email within 24 hours please contact ITMS to report a fault
10. Copy the View link onto your computer's clipboard
11. Log in to Blackboard and go to ENTE3506
12. Locate and click on the Assignment 2 Blog 1 & 2 link on the left-hand menu
13. Go to your tutor link (where you submitted your first blog entry) and click Create Blog entry
14. Paste your copied video link from the clipboard onto a new blog entry and Post entry.
16. Ensure you see the video link added your your blog.
17. You have now uploaded and submitted correctly. You can repeat the process if you need to add more than one video or audio file.
---