Alternative way to create a Welcome page, by using a content area (have the document template ready)
Create a "Welcome" Content Area on the main menu
1.Click the little + sign at the top-left on the menu and select Content Area.

2.Then type Welcome>click the checkbox to make available, then Submit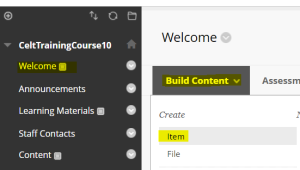 3.Now go to the Welcome menu you have just created. Click Build Content>Item
Open the Module shell template Word document.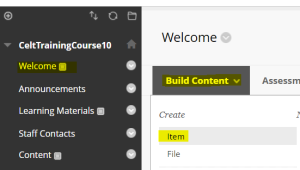 4.You can now Copy and Paste the content from the Template into your module item. Keep the formatting.
5.Click Submit to save.
You can now edit the Welcome page
Your completed Welcome page will look similar to the image below. You can edit and adapt this to reflect your own module links and menu.
Set the Welcome page as the entry point for your module.
Go to Control Panel>Customisation>Teaching Style.  Then select Welcome as the entry point>click Submit
Optional step
This will simply make the landing page look a little tidier in the student view.
Make the title of the item 'welcome' white