This page is available to download in Microsoft Word format.
---
Learning outcomes
By the end of this guide you should know how to;
create a blank file in a Tab in your Team Channel
post a link to the blank file within the Team Meet chat.
---
Watch a video of this guide.
Download a transcript of this video.
---
1. Having had a Team created for your synchronous sessions, open the Team.

Click this link to see how to have MS Teams created that mirror the Groups that have been set up on the Blackboard shell.
2. Select the Channel in which the document (or pseudo whiteboard) will be made available to the students.

You may wish to create a new Channel to house all of the whiteboards that are created during your weekly synchronous sessions.
3. Select Files>New>Word document.
4. Type an appropriate name for the virtual whiteboard.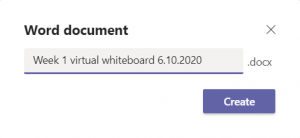 5. Click Create.

The blank document must be created within the Team that is being used for the live session – this will ensure that students will have permission to view and write on the document once it is shared with them.
6. The blank document will be displayed within Teams.

The blank document may then be prepared for your students to use by adding a table, image etc. as needed for the student interaction.
7. Toward the top-left of the screen click the Back button.
8. Click on Show actions and Copy link.
9. Click Copy.
10. Paste the link into the meeting chat and press Return.

If you are planning to give your students links (to documents, videos etc) during a live session we recommend that you have a separate Word document open with all of the links already added. This allows you to copy and paste them swiftly.
11. Students and colleagues can now open the document. It will open in a different window to the Teams Meet and these could be displayed side by side.