This page is available to download in Microsoft Word format.

The quiz function provides opportunities for:
Building in knowledge checks to support active learning to enable our students to reflect upon and identify their own understanding.
Reflection by providing, where appropriate, students with the ability to pause the recording and look at additional material, reflect and take notes or tasks on Blackboard.
Including a reprise of the Learning Outcomes at the end of the recording to reiterate what your students should take away from that session.
Providing information about where and how students can obtain follow up support, for example; in a forum or a synchronous seminar, tutorial etc.
---
Learning outcomes
By the end of this guide you should know;
How to add a quiz with a multiple choice question to a DMU Replay recording.
---
Watch a video of this guide.
Download a transcript of this video.
---
How to
1. With the DMU Replay Editor open, position the Playhead on the timeline where you need the quiz to appear.
2. Toward the left, click Quizzes and Add a Quiz.
3. The screen will change – select Multiple Choice toward the top right of the screen.

Other question types are available to select – please explore these at your leisure as other types may be more pedagogically appropriate.
4. Complete the Question field with the question text, ensure the correct answer is marked as such using the radio button and add some Correct answer feedback. Click Done.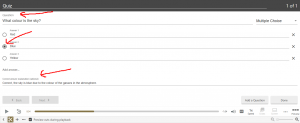 5. Use the tick boxes to ensure the quiz behaves as is pedagogically appropriate to your context. Click Finish.