This page is available to download in Microsoft Word format.

Changing roles enables us to:
Promote or demote staff members and students within the room as required.
---
Learning outcomes
By the end of this guide you should know:
How to change and assign attendee roles within Collaborate Ultra.
---
Watch a video of this guide.
Download a transcript of this video.
---
How to

You will need to have 'Moderator' status in Collaborate Ultra.
1. Open the right-hand panel options by clicking the pink tab at the bottom right of the screen.
2. Select the 'Attendees' option from the right-hand panel options.
3. For the attendee whose role you wish to alter, select the 'Attendee controls' option.
4. From the 'Attendee controls' menu, select which role you wish to allocate to the attendee.
5. Instructors on a Blackboard module are automatically allocated 'Moderator' role in Collaborate Ultra sessions created within that module shell. But to alter the default role of students or others attending a Collaborate Ultra session, first left-click on the name of the relevant Collaborate Ultra session.
6. Scroll down and select the 'Session Settings' option.
7. When you have selected the 'Session Settings' option, you will be able to change the 'Default Attendee Role'.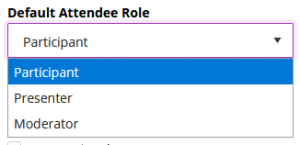 8. Finally, click the 'Save' button, located towards the bottom of the session options.