Blackboard Assignments
The Blackboard Assignment feature allows you to create an assignment portal in any content area of your Blackboard course and for you as a tutor to grade and give feedback. It allows your students to submit assignments in an electronic format. When an assignment is created in your course it automatically adds an column in your module Grade Centre in Blackboard where all student submissions are saved/stored and from which you can access submitted assignments to review/mark and enter grades for them. It is also possible to mark anonymously assignments submitted this way.

The BB assignment tool apart from allowing students to upload files (e.g. MS Word) as submissions, also allows students to leave comments when they submit. However, for marking anonymously we advise that you instruct your students not to use the comment box as this will reveal their name in the comments box in the assignment details panel (this has no impact on students still being able to upload their assignments; it's an additional feature in Blackboard assignments).  If the student needs to communicate a comment they may have to contact the tutor by other means. Further note, teams need to consider what happens if a student adds a comment by mistake.

For anonymous marking, students will need to be advised that they must not add their name to their assignment submission but should add their student P number for identification.

The Blackboard assignment tool does not run a plagiarism check.
To add an assignment to a content area:
1. Enter the Content Area into which you want to add the assignment information and submission link
2. Hover over the Assessment button and click Assignment.
3. Enter the assignment's name and add instructions.
4.
a) attach any files that you want the student to use for the assignment
b) input how many points you want this assignment to be worth (this is a 'required' element)
c) you can ignore the Associated Rubrics section
d) select the availability of this assignment.
Note: if Grading Options is clicked a checkbox labelled Enable Anonymous Marking will be revealed. This checkbox is purposefully disabled and does not affect this workflow.
5. Assignment availability settings
On set up, staff are allowed to set a number of submission attempts.

For anonymous marking staff should set the tool for a single attempt. The other options, namely 'Allow unlimited attempts' or set the 'Number of attempts' may cause confusion because when marking anonymously staff are not presented with all the attempts made by a single student. For example if a student submitted three attempts, her submissions will be presented in random order and will not be linked in Blackboard.
You may also set date and time restrictions, track the number of views, set the due date and choose whether the assignments is accessible to each individual student, or to a particular group of students on your course
6. When you have completed all of the information, click the Submit button.
7. An assignment submission link will now appear in the content area.
The following video is a Blackboard tutorial that visually demonstrates how you set up an assignment in Blackboard. For additional information specific to DMU guidelines on anonymous marking of a Blackboard assignment please view the video titled "DMU guidelines on creating Blackboard assignments for anonymous marking"
DMU guidelines on creating  Blackboard assignment for anonymous marking
---
Students submitting their assignments
1. Students can submit their assignments in Blackboard using the assignment submission link in the content area in which you created the assignment. Once they have selected the assignment link they will be presented with a page that displays the 'Assignment Information' which can include your instructions, the due date and any files that you may have attached. Students can then 'Browse' and locate the file on their computer that they wish to submit.
2. Once the student presses the Submit button, the submission process is complete, and they cannot make any changes to their submitted work. If they might want to make changes, or upload additional files, they should click Save as Draft at this stage and can then later submit their assignment once complete.
---
Marking student submissions anonymously
It is advisable to wait until the due date for the assignment submission before marking. Student assignment submission can be graded through accessing the Blackboard GradeCenter in your module from the control panel. To make it easier to locate Blackboard Assignments in the GradeCenter that need marking, select 'Assignments' from the sub menu in 'Grade Center' this will display assignment columns only in the GradeCenter view.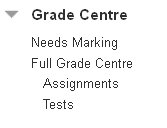 Before marking, it is advisable that the 'First Name' and 'Last Name' columns are hidden in Blackboards GradeCentre. When you begin marking anonymously in Blackboard's GradeCentre you are presented with submissions in a random order with student identity hidden. If you don't have these columns hidden you will need to mark all submissions in one go, if you 'Save/Exit' marking half way the Blackboard GradeCentre will reveal which students have been marked and those that are outstanding, with this icon:
Having these columns hidden allows you to mark in batches and not in one go, however please be wary that student grades and feedback are visible as soon as they are marked from the original assignment submission link. To prevent this you will need to hide the assignment columns in Grade Centre:
hide columns in the Grade Centre
Tell me about hiding columns in Grade Centre
When a student uploads an assignment that you created via the assignment tool Blackboard does not automatically grade for you, it will appear in the "Needs Grading" section (symbolised with a
). Use an assignment's (correct column in the GradeCentre) contextual menu ('down arrow') to grade anonymously.
You will then be presented with student submissions to mark in a random order. You can download the student's assignment submission and mark (for example adding any comments etc).

When you are marking one student's piece of work do not navigate away from the Blackboard screen, so you can upload the feedback to the correct student. You can still download the submission and mark (i.e. MS Word) but do not click to another Blackboard view. This is because Blackboard randomises student submissions and 'student 2' may be a different student if you do go away from this screen and navigate back in and are presented with another anonymised student paper which displays a 'student 2'
You can also add a grade and give feedback for students to view by using Blackboard's text box editor. There is also space here for you to add any 'Grading Notes' and any attachments which are visible to you as an instructor only. Any feedback you have added to the student submission can be uploaded. When you have finished select 'Save & Next' and you should be presented with the next student submission to mark.

When marking in batches – Blackboard Assignment will not save where you have last marked from, you will be presented with student submissions in random order – even the ones that have already been marked. There is also an issue where if on returning to mark a batch you are aware that some submissions have not been marked, you may be presented with the 'last submission' and won't be given the option to 'Save and Next' to move on to another submission but only the option to 'Save and Exit'. To get round this select 'Save and Exit' and then select 'grade anonymously' to be presented with a submission that needs marking. You will also be able to tell which ones are not marked when you get back to the Grade Centre as they will have a 'Needs Grading' icon
.

Please be aware that when marking anonymously using Blackboard's assignment tool that students can view written feedback by accessing the assignment link in the Blackboard module. If you hide this column in the Gradecentre, the score and feedback will be hidden from students in my grades but the feedback will be viewable from assignment link in Blackboard, therefore tutors need to consider marking all assignments in one go.

It is not possible to clear a student's submission attempt (for example student submits the wrong assignment) without seeing the student's full details – which will include their name.

If you manually select 'needs marking' from the Blackboard GradeCentre menu, the list shown displays student names for the work that needs marking, even when name columns are hidden. Note by default when students have uploaded submissions, GradeCentre adds a 'need marking' icon

.
The following videos are Blackboard tutorials that visually demonstrate how you can hide columns, grade anonymously and create smart views. For additional information specific to DMU guidelines on anonymous marking please watch the video titled "DMU guidelines on marking the submissions anonymously"
Grade Anonymously
Creating Smart Views
DMU guidelines on marking the submissions anonymously
---
Downloading assignments for anonymous marking away from Blackboard
It is not always practical to mark all assignments that have been submitted whilst connected to Blackboard, using the 'Assignment File Download' option from within Grade Centre, all submissions can be downloaded and saved in a .zip file for marking electronically whilst being disconnected from Blackboard.

When using the Assignment File Download tool, students must be advised not to put their name in the filename of the work being submitted nor on the document itself. Blackboard will automatically include the student pnumber in the filename once the download is completed and this will serve as a unique identifier to match the paper to a student after it has been marked.
To use the Assignment File Download tool – once all of the students have submitted their assignment, log into Blackboard and access the Grade Centre. Click the 'more options' button at the top of the column that represents the assignment submission link and select 'Assignment File Download'.
On the next screen, click on the 'Show All' button at the bottom of the screen to ensure that all of the submissions are visible on one screen.

Using the select all tick box at the top of the view select all of the assignments that are available to download and click 'Submit'.
Blackboard will package the assignments into a .zip file and return an on screen link that can be used to download the .zip file. Click the link and the local computer will open a 'Save as' type dialogue box, save the .zip file in an appropriate place.
Open the .zip file and extract the contents using the appropriate compression software as installed on the local machine.
You should now have a folder containing the original submission and a .txt file for each submission.
The .txt files do contain identifying information, using the 'Type' column, sort the list by type and delete the .txt files.
Mark the submissions as normal, this could be by providing on screen comments, annotating using a tablet or generating an audio feedback file/video. For more help and advice about electronic marking techniques, visit the 'Effective Practice' section of the CELT Hub.
Once all submissions have been marked, log back into Blackboard and access the Grade Centre.
Using the pnumber that should be in the filename; match each marked assignment to the relevant student and add the grade, feedback and any other file(s) that may form part of the feedback as described in the Blackboard help files.

How to perform the Assignment File Download
FAQ's on Anonymous Marking and E-assessment