As a tutor you have access to Turnitin via your Blackboard modules which allows you to create assignment portals for your students to submit text based assignments which are checked for plagiarism using Turnitin. GradeMark (GM) adds further functionality to the Turnitin reports produced in that it allows tutors to mark and give feedback online. GradeMark also connects to the Blackboard module and the Blackboard GradeCenter where the assignment portals are created. Tutors can use the GradeCenter tool to reveal grades and feedback on formative and/or summative work. Using GradeCenter is at the tutors' discretion. Tutors who don't use the GradeCenter can still have the students view their marks/feedback from the same location in their Blackboard module where the student initially submits.
To anonymously mark an essay directly in Turnitin requires the use of the GradeMark tool. The process for setting up a Turnitin submission that is to be marked anonymously using GradeMark, is as follows:
1. In your Blackboard module shell, navigate to a content area and using the Assessments button, select TunrnitinUK Assignment
2. When the Turnitin application opens, select Paper Assignment and click Next Step
3. Give the assignment a title and set the start date (when the submission link becomes available to students), due date (the submission due date) and post date.
A critical option is the 'Post Date' which is the date when student identities are revealed to the tutor and when marks/feedback are revealed to the student. It is mandatory to have a post date for GradeMark. This date means that staff must complete their online marking by the post date and need to bear this in mind when setting up the Turnitin assignment.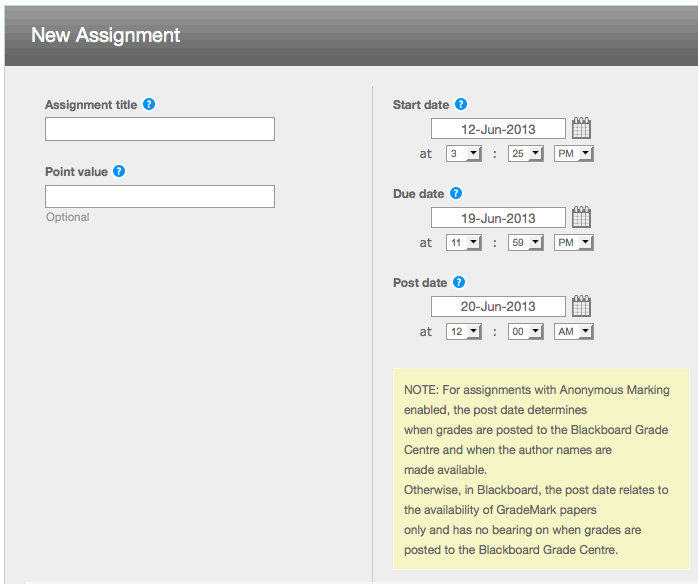 4. Open the Optional Settings window by clicking the plus (+) sign.
To create a Turnitin submission link for essays that are to be marked anonymously you must ensure that Anonymous marking has been enabled.
The option 'Reveal grades to students only on post date' provides you with the ability to control when grades are revealed to students. This means that the Blackboard Grade Center column will be hidden for students until the post date, and this stops the students seeing the Turnitin assignment grade/feedback through the tool Blackboard's 'My Grades'.
Select 'Yes' to reveal grades to students on the post date of the assignment. 
5. When completed click Submit
A Turnitin submission link will be created on your Blackboard page.

Students need to be advised to remove their name from their assignment submission and to add their student p-number for identification.
The following videos are screencasts. The first, taken from TurnitinUK webpage, visually demonstrates the process of setting up a TurnitinUK Assignment. For specific DMU guideline on setting up  the TurnitinUK Assignment for anonymous marking please look at the screencast titled "DMU guidelines on creating the Turnitin Assignment for anonymous marking" 
---
Marking a Turnitin submission anonymously using GradeMark
1. Navigate to the Turnitin submission repository on your Blackboard module shell via the Course Tools menu, selecting Turnitin Assignments

2. Select the assignment from the list.
3. You will be presented with the Turnitin assignment inbox. You will notice that each paper is listed as having Anonymous Marking Enabled.
4. Click on the title of the paper that you wish to mark.
5. You will be presented with the Turnitin Document Viewer – the difference now being that the GradeMark button in the top menu is functional. Click on this button (if it is not active) to mark the work anonymously using GradeMark.
The following videos are screencasts. They visually demonstrate the process of marking using GradeMark. Please note, the screencasts open the TurnitinUK webpage, each screentcast provides an overview of the process. For specific De Montfort guidelines on anonymous marking using GradeMark please also look at the screencast titled "DMU guidelines for anonymous marking in GradeMark" ​
How to backup and download marked assignments using GradeMark in Turnitin – See more at: https://celt.our.dmu.ac.uk/additional-grademark-feature/#backup
How to backup and download marked assignments using GradeMark in Turnitin
Click here for more information on GradeMark and its features
Click here for Turnitin's online resource on how to annotate a student script
Click here for Turnitin's online resource for creating your own set of comments in Grademark 
Click here for Turnitin's online resources for adding a voice comment in Grademark

Some key issues to consider when using Turnitin and GradeMark  for anonymous eAssessment
With anonymous marking enabled all students assignments must be marked completely on-line.
Grades transferred from GradeMark, then modified in Blackboard do NOT transfer back into Turntin GradeMark. Adding a grade via Grademark is a one way only process.
Staff need to consider what is to be done about late submissions, as student identities will be known.
Where a tutor suspects collusion in the process, they will have to wait until after the post-date for identities to be revealed.
Staff are advised not to delete a Turnitin assignment in their module, in order that marked papers with feedback are accessible after the post-date.
If marking is not completed before the Post Date on turnitin submissions, anonymity will be switched off and student names will be visible.  If need be, the post date can be changed as long as the set date is not expired.
FAQ's on Anonymous Marking and E-assessment
Return to Anonymous Marking Home Page
---