Scheduling Assistant can help you to find the most suitable time to arrange an MS Teams meeting with one or more colleagues.
The problem
Say we wish to schedule a meeting: how can we work out what date and time might be most convenient for all invitees? Equally for larger meetings, might there be a way to find a date and time that would best guarantee a good attendance?
Solution
When scheduling a Teams meeting, you can use the Scheduling Assistant feature in the MS Teams Calendar: it provides a graphical display of the availability of multiple staff at any date or time.
STEP 1
Choose a tentative meeting date and time: in MS Teams Calendar, click on that date and time.
STEP 2
Click the Scheduling Assistant option: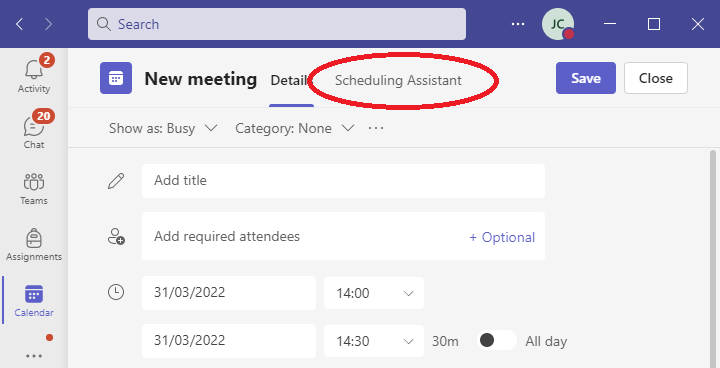 STEP 3
Add the details of the people you wish to invite by clicking on the 'Add required attendees option':
In the example below, I want to arrange a meeting with two colleagues, Maxine and Neil:
STEP 4
Check whether everyone is available at the date and time you have selected. If they are available, then simply click "Send".
(In the example above, the meeting time is 14:00-14:30: however, the grid on the right-hand side indicates that, although Maxine is available, Neil may not be available).
If not everyone is available, continue to Step 5.
STEP 5
Try to find an alternative date and time when everyone is available.
In the above example, we can see there are other times on the same day when all three people are available. Once you have found a new time and date when all or most people are available, simply move or amend the meeting details to the new time and date:
STEP 6
Once you have found a date and time suitable for all, or most, people click 'Send' to invite them.