Rubrics in Turnitin  can be extremely helpful for marking and feedback. However, you may be confused by the range of rubric types and the differences between them.
In Turnitin, there are several types of rubric that take the form of a grid. These are all suitable for analytical rubrics, where you have worked from learning outcomes and have a range of levels of achievement, probably broken down to several key criteria. Rubrics have "criteria appropriate to an assessment's purpose, and they describe these criteria across a continuum of performance levels" (Brookhart, 2018).
In Turnitin, you have the option of using a Standard or a Custom rubric, which calculate the overall mark, or a Qualitative rubric, which does not have marks attached. All three enable you to indicate the level of achievement on each criteria, and to insert some text description for each of these levels to provide feedback for the student. Each of these types look slightly different on set up and this is useful to consider in advance.
Setting up the rubric
Note that when entering marks in a Standard rubric, you need to weight each criteria (down the left-hand column) so that together they equal 100%. You need to type in the mark in the header for each level.  There is a text box above, where you can type in a range and/or description for that level. Make sure to include the highest mark (ie.100 if using percentage).
Therefore, if you want to have the possibility to calculate another point in the range, you need to create another column. Alternatively, if you want to be able to calculate many different points on the scale, you might want to consider using a Grading Form instead (see below).
When entering marks in a Custom rubric, you need to insert an individual mark for each cell. Turnitin will total those cells you select when marking to calculate the overall mark. Note that criteria don't need to be weighted.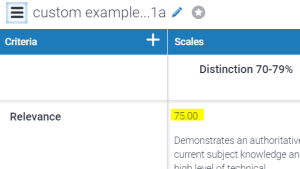 When marking, you use a slider to indicate the level for each criteria. The Standard and Custom rubrics enable you to click Apply Grade to calculate the overall total. A Qualitative rubric looks similar, but does not calculate an overall grade.
In addition to Standard, Custom and Qualitative rubrics, which are in the form of a grid, with criteria and columns for each level of achievement, there is the option to use Grading Forms. Grading Forms are more like holistic rubrics, for when the overall performance or work cannot be easily broken down into distinct levels, or when you need to allocate precise marks. When setting up your Grading Form you have only to decide on the criteria headings. You can optionally add a description of the competencies, behaviour or skills that need to be evidenced.  There is an option to calculate the overall mark too.
When you are marking a Grading Form, you can type in a comment under each criteria and, assuming you have selected to calculate scoring, you type in a mark. Clicking on 'Apply to Grade' will calculate the total mark.
Managing your rubrics
When you are in any Turnitin Assignment Inbox, click on Libraries, Rubric/Form Manager, where you will be able to manage your rubrics, including duplicating, deleting, changing their names, or exporting.  These are rubrics that you have worked with or created previously (they won't be visible to others who are teaching on that module).
---
You can find Quick Guides on how to create rubrics and grading forms at this link
Banner image: Mike Hindle – http://unsplash.com
Some useful resources
Brookhart, S. M. (2018) 'Appropriate Criteria: Key to Effective Rubrics', Frontiers in Education, vol.3, Online: https://www.frontiersin.org/article/10.3389/feduc.2018.00022 (1/05/22)
Deciding which type of rubric to use, Southwestern University
Jennifer Gonzalez, Know your terms: Holistic, Analytic and Single Pont Rubrics, Cult of Pedagogy