QuickMarks is a feature of Turnitin: when marking a student's assignment in Turnitin, QuickMarks can help you to provide effective feedback and save you time.
Overview
QuickMarks are commonly used phrases and comments which you can apply or create for use in marking multiple assignments.
QuickMarks can easily be adding to appropriate locations in a submitted assignment – either by dragging and dropping or by selecting assignment text and then applying a comment.
1. How to open the QuickMark panel
Select and open a student submission in Turnitin: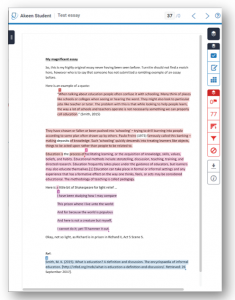 From the menu at the top right of the student submission, select the QuickMark icon to open the QuickMark panel:
Inspect the comment contained in any QuickMark by clicking any of the QuickMarks from the QuickMark panel.
2. Applying a QuickMark – Option #1
Click and drag
To apply a QuickMark, click and drag the blue QuickMark onto the appropriate location in the student assignment:
By clicking on the blue QuickMark, the full QuickMark comment can be viewed by staff or student:
3. Applying a QuickMark – Option #2
Select appropriate text in assignment, and then apply
Using your mouse, click and drag to select appropriate text within the submitted assignment. When you release the mouse button, a mini toolbar will appear:
This mini toolbar gives you the option of adding a QuickMark or creating a new Comment.
4. Create a Comment
If you cannot find a QuickMark to suit the feedback you want to provide at any point in a student submission, then you can create a new Comment of your own.
To create a new Comment, select the relevant text from within the student submission. This will bring up the mini toolbar. From the mini toolbar, select the Comment option:
With the Comment option, you can now add a new unique Comment:
5. Save a Comment as a new QuickMark
If, after adding a new Comment, you wish to then add it to your QuickMark options, select the 'Convert to QuickMark' option:
6. Move a QuickMark
Click and drag a QuickMark to place it at a different location in the assignment submission.
7. Delete a QuickMark or Comment
Click on the text of the QuickMark or Comment, then select the trash icon to delete that appearance of the QuickMark:
8. Saving QuickMarks
QuickMarks are automatically saved onto an assignment submission when you insert them, although you can still remove them if you wish to. But there is no 'Save' or 'Submit' button within Turnitin's GradeMark interface as they are not needed.
9. Changing the QuickMark set
Turnitin contains several different built-in sets of QuickMarks. The default QuickMark set is 'Commonly Used'. To view other sets of QuickMarks, click the Change QuickMark set button and select from the dropdown menu:
You can also create your own QuickMark sets, as well as import and export QuickMark sets. We will examine these advanced features of QuickMark in a future blog post.
Banner photo by Vlada Karpovich from Pexels.