Tracking student engagement on your Blackboard course
The ability to track whether students have accessed your content on BlackBoard is a useful tool to identify any potential issues with engagement. Whilst there are limitations to what can be tracked on Blackboard, there is a process by which you can track if students have viewed or clicked on content. This article explains how to turn on statistics tracking and run reports
Tracking limitations
Tracking of detailed student engagement with items and content on a Blackboard module is limited. Such that it isn't possible to identify how long a student spent interacting with a particular item of content; DMU Replay being the exception here – tracking DMU Replay engagement will be discussed later.
As an example, this image shows three types of content in a Blackboard module:
The Pre-work for week 1 Weblink contains a link to a website that the student is expected to work through. There is no mechanism that can be used to determine if a student accessed the website and how long they spent on the website.
The Week 1 – PowerPoint slides Item contains a link to a PowerPoint presentation, there is no mechanism that can be used to determine if a student downloaded the PowerPoint presentation or if they did, the extent to which they engaged with the content of the presentation.
The DMU Relay recording (Example Module Shell . . .) does include a mechanism by which you can access reasonably detailed engagement information about: which students have viewed the recording; how long they viewed the recording; and which specific parts of the recoding they viewed (were they to jump to a particular part of the recording). Information about how to access the viewing statistics for a DMU Replay recording can be found by clicking this link.
Turn statistics tracking on.
Despite the lack of a mechanism to fully explore student engagement with some types of content on Blackboard, there is a process by which you can track if students have viewed or clicked on content.
To track if student has looked in a particular folder on a module, click the option button and toggle statistics tracking on: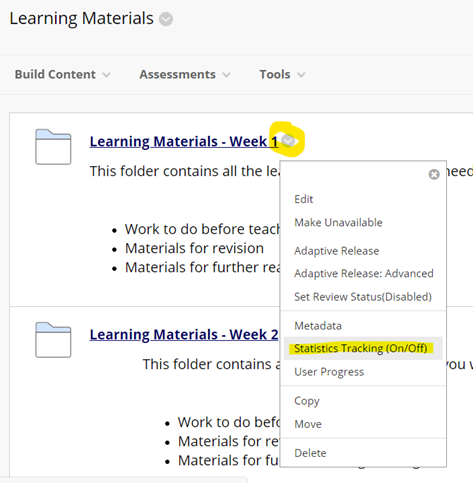 Content that is being tracked will be indicated:
The same type of tracking can be applied to other types of Blackboard content such as web links and items:
View a tracking report
To view a tracking report for a particular item of content. Use the options button and select view statistics report:
Run the report:
You can choose the date range over which you want to run the report and select individual students to run the report for (if you do not select any students it will run a report for all students on the module):
The report will be run and you can then download the report as a PDF:
The report shows how many times over the selected date range a student accessed the item of content:
This type of report can be an effective mechanism for identifying students who have not accessed particular items of content.
Retention Center
There is another system within Blackboard called Retention Center which enables you (module instructor) to set up alerts and to gather information about students' activities on your Blackboard module: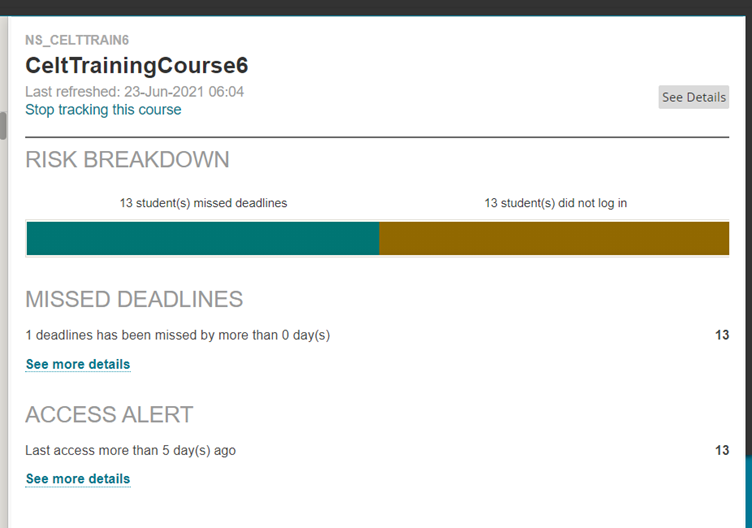 Depending on the rules you create, it is possible to have a quick overview of any high or low marks for tests and assignments, the levels of access to learning activities and materials, or to missed deadlines.
The Retention Center may be particularly useful where students need to complete regular formative assignments or tests, or access specific content as they progress. However, as with the tracking system above it cannot provide details about the extent to which a student actively engaged with a particular item of content.
The information in the Retention Center is for instructors only and is not seen by your students.
For more information and 'How to' guides about Retention Center follow this link.